Youth (Ages 8 - 14) Baseball Day Camps
Saturday - October 3, 2020 & November 7, 2020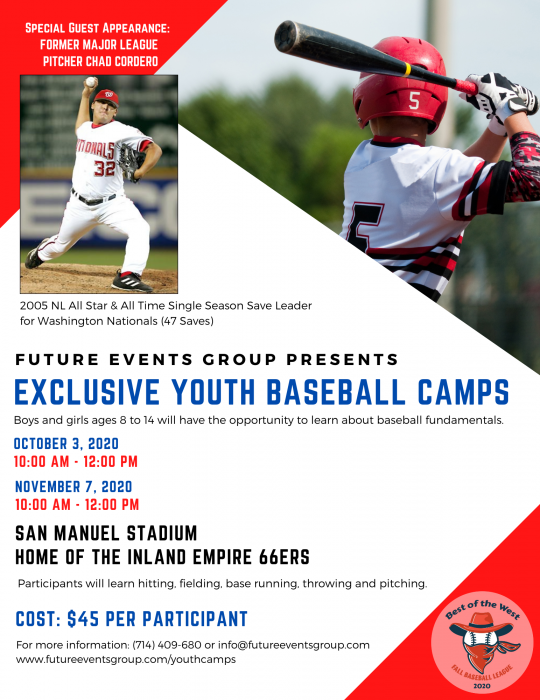 NOVEMBER 7 – YOUTH CAMP UPDATE
We are sorry to inform you that the Best of the West Youth Camp that was scheduled on November 7, 2020 has been cancelled.  We made this difficult decision to cancel the event.  We look forward to seeing you in the future for another scheduled date.  Thank you for your understanding.
Participant Requirements:
Player Registration Form. (below)
Participation Waiver & Proof of Medical Insurance.  Click Here
Participation Fee:  $45.00.
Payment Options:
Venmo – No additional fees.  (@BestOfTheWest1)
PayPal or Credit Card  – Applicable 3.6% fee.  
Once payment has been received in full and the form below is submitted, your spot will be confirmed. No refunds will be issued.

Only (1) Adult will be admitted to the stadium with participating child. Please help us slow the spread of Coronvirus (COVID-19) and adhere to social distancing.  Masks or face coverings are recommended.  
24 participants per age group available per session. Spots will be confirmed once registration and payment has been received.  
Youth Camp - Registration Form.