2021 SPRING COLLEGIATE EXHIBITIONS
 APRIL 9, 2021 THROUGH MAY 16, 2021
(ELIGIBILE PARTICIPANTS ARE ONLY ALLOWED FROM SCHOOLS THAT HAVE OPTED OUT OF THE 2021 SEASON)
In order to observe the Easter Holiday Weekend, we have decided to delay the start of the Spring Exhibitions to start on April 9th.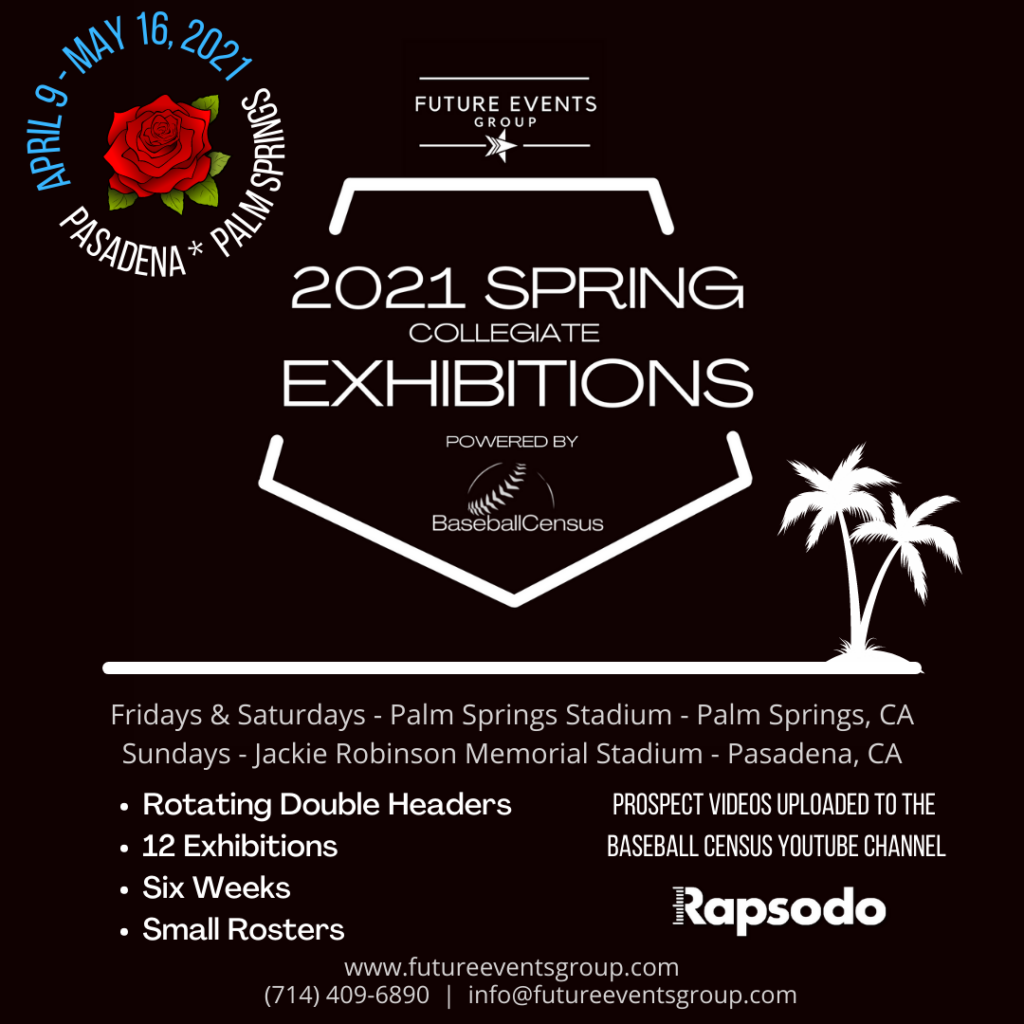 Scheduling
Fridays 2:30 pm/6:00 pm Exhibition Schedule – Palm Springs Stadium, Palm Springs, CA 
Saturdays 10:30 am/2:00 pm Exhibition Schedule – Palm Springs Stadium, Palm Springs, CA
Sundays 11:00 am/2:30 pm Exhibition Schedule – Jackie Robinson Memorial Stadium, Pasadena, CA 
Description
April 9, 2021 through May 16, 2021 
Six weeks of Exhibitions held at two different field locations 
Two Exhibitions per week/per group
Batting Practice and Pre-Game prior to each Exhibition
Collegiate Coaches and Scouts in attendance 
Collegiate Umpires
High – level Collegiate Fields
Schedule allows for ample time off, to recover for Summer Ball
Uniform shirt included in Player Fee.
Accepting Pitchers Only.
Position Players – Waitlist Only.
Thank you for your interest in the Spring Exhibitions. Our team rosters are currently closed. If you'd like to be added to the waitlist, please completed the registration form below. Do not make a payment if you have not been approved for an open position.
Participant Requirements
:
Player Registration Form. (below)
Participation Waiver & Proof of Medical Insurance.  Click Here
Exhibition fee is $400 for pitchers, $550 for position players.
Participants must confirm their own eligibility.
Payment Options:
Venmo –

 No additional fees. (@bestofthewest1) 4-Digits: 1898

PayPal 

or 

Credit Card 

 – Applicable 3.5% fee.
Once payment has been received in full and the form below is submitted, your spot will be confirmed. No refunds will be issued.
Palm Springs Stadium – Use the following address:
401 S Pavilion Way
Palm Springs, CA 92262
(Entrance to the stadium will be in Right Field off the parking lot on Pavilion Way)
Jackie Robinson Memorial Field at Brookside Park
 678 N Arroyo Blvd
Pasadena, CA 91103
(Entrance south of Rose Bowl Lot H – South Gate entrance on first base side)
Spectator Ticket Password:  spring21